The Itat Quarterly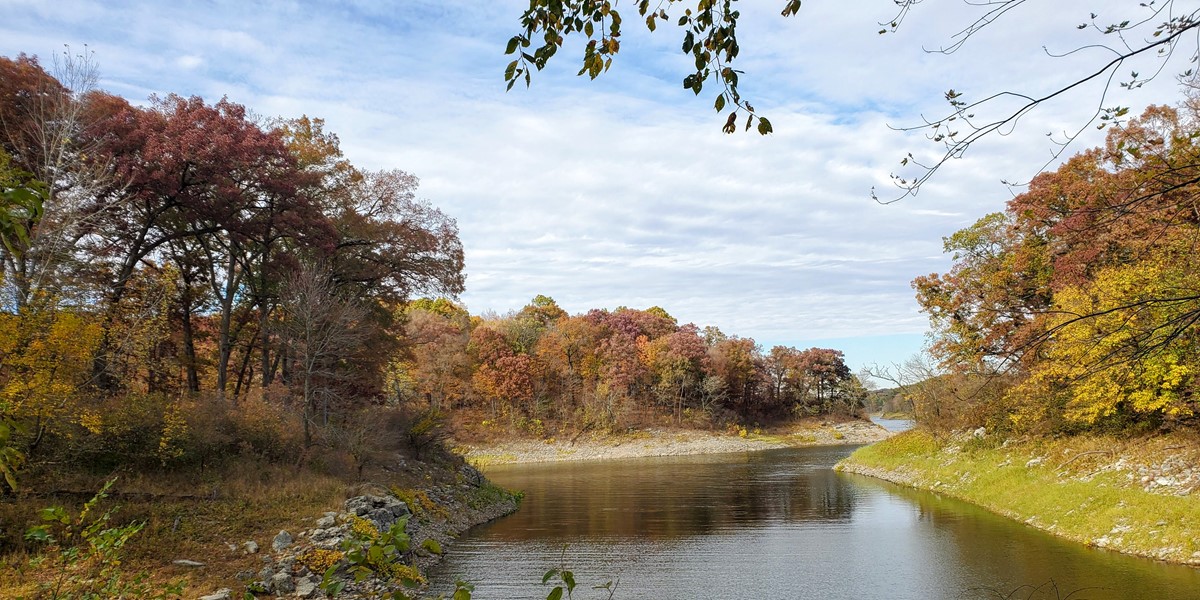 An Autumn Day on the Banks of the Cedar River - Linn County
Fiscal Year 2022 - Q2 Edition
Welcome to The ITAT Quarterly!
The ITAT Quarterly newsletter is brought to you by the County Treasurers of IowaTaxAndTags.org.  It is designed to increase communications and provide treasurers with information on hot-topic issues that concern Iowa County Treasurers.
Autumn has finally arrived!
Fall in Iowa has long been my favorite season of the year.  Yes, it is a precursor to my least favorite season (winter), but the beauty of the changing colors and seeing the farmers bring in the harvest is unmatched in my mind.  Add cooler temperatures, college football, and of course, the return of pumpkin spice lattes at Casey's (General Store), and there is no better place to call home.  But, all kidding aside, we have many positives to look back on over the last few months and a lot of things to be thankful for. 
The September Property Tax deadline month went extremely well.  Even with Treasurer's offices open for in-office customers, we saw a nearly 6% increase in online transactions over FY2021, when many offices were closed to the public.  Looking back to pre-COVID numbers, we have increased online property tax transactions by over 30% in two years.  It is great to see more property owners take advantage of a safe, secure and easy payment option by paying online through IowaTaxAndTags.org.
As we approach the upcoming holiday season, it's important to reflect on everything we have experienced over the past 18-months.  We have accomplish a lot in that time and have seen:
offices adjust to the new normal as they return to assisting citizens in person
great collaboration between counties, not only within the ITAT group but also among treasurers across the state
an increase in online transactions due to citizens' education on the benefits of utilizing IowaTaxAndTags.org as a safe, secure and easy-to-use way to pay their property tax and vehicle registration and
the addition of new and expanded features to IowaTaxAndTags.org
Looking ahead, the New Year looks to be our best year yet!  We have a ton of enhancements planned for development to make IowaTaxAndTags.org even better.  In addition, we are looking to add even more value for our participating counties by adding features for in-office payments that will make processing transactions at the counter even more efficient.  Look for more details in the next edition of The ITAT Quarterly.
Enjoy the journey!
Don Lewis, CPA, ITAT Project Manager
What to expect from The ITAT Quarterly newsletter:
Legislative and administrative rules changes - discussion on any new legislative or administrative rules and how they affect the County Treasurer's Office.

County Treasurer Spotlight - go in depth with one of the ITAT County Treasurers to find out what is new in their county and what benefits they get from being an ITAT County.

ITAT Enhancement Update - find out what the IT developers have been working on and what they have up their sleeves for the next quarter.  

Technical Review - learn how Iowa Tax And Tags utilized the latest technology to ensure payments are transacted safe and securely.
County Treasurer Spotlight
Sharon K. Gonzalez, Linn County
Defining the New Normal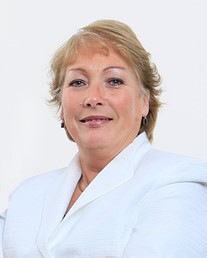 When I was first asked to write a piece for the next newsletter, I panicked because this is definitely not my forte. However, I realized this is my first and last newsletter as an ITAT county treasurer and the perfect opportunity to tell everyone how grateful I am to be a part of such a wonderful organization for so many years, as a clerk, a deputy and now as treasurer! I have met so many wonderful people and created long lasting friendships through this organization. We help each other whether we are a small or large county, a republican, a democrat, or a member of ICTEA or ITAT, and I believe we all have the best interest of the public at heart!
When the pandemic hit, businesses closed to the public, and most of us had to scramble to set up processes to assist our customers without having the public come into our offices. This required a lot of "out of the box" thinking for all of us.
My Board of Supervisors closed all Linn County buildings to the public for 10 ½ months from March 17th, 2020 to July 20th, 2020 and then again November 10th, 2020 to June 7th, 2021.  We were backlogged with work while being very short-staffed, so I was very grateful to be a part of Iowa Tax and Tags as it allowed us to take all payments, including e-checks, over the phone! It was extremely beneficial when customers mailed in their motor vehicle transactions; if they were short money, we could call them and take their payment without returning their paperwork.
During the four months between mid-July to mid-November 2020, we were open by appointment only for title transfers, tax sale redemptions, NSF/Revokes, and license plate exchanges but did not allow appointments for tax payments or renewals. My Board of Supervisors advised me to encourage customers to use our online payment system to try and keep the number of customers coming into the building at a minimum and allow us to create a more COVID-safe environment.  Those customers with SR22 or Clerk of Court stops had to mail their payment or use the drop box outside the building. If they wanted to pay over the phone, they needed to fax or send an email confirmation of their SR22 and/or a letter that they were current on their payment plan from the appropriate county. What was interesting, many customers were upset because they were required to pay the postage and felt it was not fair that they couldn't make an appointment for these services.
On June 7th, 2021, our Board of Supervisors reopened all county buildings to the public.  However we did not utilize our appointment system and allowed customers to pay their renewals and tax payments at the counters. As you can imagine, we were swamped with customers. The average wait time in June was one hour and nine minutes; in July, it dropped to 37 minutes, and in August was 17 minutes. Needless to say, it was a bit crazy, and we were still working overtime on Saturdays. By mid-August we were able to get on top of our mail and have not worked overtime since.
I cannot speak for any other county treasurer, but this tax season was different from past years. Keep in mind for the last two and a half seasons, we only allowed tax payments by mail, phone, drop box, or online. Our mail was less and very manageable, and our percentage of walk-in customers had dropped dramatically! Usually, the last week of September is when we are running around like crazy people with a lobby full of customers and the phone ringing off the wall! However, the last week of September this year, there were times we had no one in our lobby, not even for a title transfer. This was the first tax season ever that we did not have to work even one hour of overtime to process tax payments! For a brief moment, I thought and prayed, "Could this be the new normal?"
We decided to look at some statistics to see if we could explain this phenomenon, and this is what we found. We compared the months of July, August, and September of 2019 (pre-pandemic) to the same months in 2021. For registration transactions, we had a 53%, 62% and a 63% decrease for walk-in customers, while property tax payments for the same months also had a decreased 19%, 81%, and a 58%! While the number of walk-in customers went down, our online payments went up by almost 36%, which amounted to $19,572,270 in additional online collections. Not only did we have a significant increase, but we have also been able to maintain these numbers! In past years we have tried to look at different ways to drive online payment adoption, but I believe that when the circumstances caused by COVID made it necessary for customers to use Iowa Tax And Tags, customers found out how easy and cost effective our online payment process was!  If we can continue to maintain these numbers, it could make a big difference in how we manage the workflow and potentially offer some new or better services to our citizens. I guess we will wait and see when March arrives if this was all a fluke or we are on our way to a new normal!
Featured Enhancements
The ITAT Programmers have continued working towards their goal to release an unprecedented number of enhancements this fiscal year.  Some of the higher profile enhancements include:  
Online Display of Unredeemed Tax Sale Information

 (Released to Production) - For active unredeemed tax sale certificates, ITAT is displaying the current amount due to redeem.  In addition, once the 90-day affidavit for tax sale has been filed, the last day to redeem is

 

also displayed

.  

reCAPTCHA (Released to Production) - Added to the Public Citizen - Property Tax payment site, this enhancement adds an additional layer of security that helps the system identify and block automated software used for enumeration and account testing attacks.  
Advance Payments

 (Pre-Production Phase) - Allows citizens to make an advance payment on unbilled taxes.  The ability to make advanced payments is only available when all current and delinquent taxes have been paid in full.  This is an optional feature for ITAT Counties.

Online Subsequent Payments

 - (In Programming) Tax Sale Certificate holders will now be able to pay subsequent tax payment online.  This enhancement is on track to be deployed to production the week of November 1, 2021.    

Public Citizen User Accounts -

(In Programming) 

Customers will be able to create an account within ITAT.  The account will allow users to save properties and vehicles to their account as well as to setup custom notifications.
Merchant Services RFP

 - 

(In Process) ITAT has received the proposals from the recent merchant services RFP.  In total, 15 proposals were submitted and are currently be evaluated.

 
Technical Review
Nathan Friedman, Director of Operations - FIS Biller Solutions
An ITAT Merchant Services Partner
New Trends in Credit Card Fraud Attacks
Credit Card harvesting attacks are on the rise worldwide, and new trends are being identified.  The card networks are reminding clients to maintain adequate controls to help quickly block enumeration attacks and account testing schemes.
What is Happening
Enumeration and account testing attacks occur when fraudsters use automated scripts or software to obtain/validate payment account information - most often on eCommerce merchant websites:
Enumeration and Account Testing Attacks - Card-not-present authorization attempts are systemically submitted, usually on a single BIN (bank identification number, or the first 6-digits of a card number) or a series of multiple BINS and repeating through various combinations of payment values such as Account Number, Expiration Date, Card Verification Value (CVV), and postal code until they hit on a valid combination and an authorization is approved.
Account Testing - One to two low value transactions are submitted to validate if a previously obtained account is active so fraud can be committed.
What is FIS Doing
FIS has added Google reCAPTCHA to all non-validating websites (including Virtual Terminal) as well as adding further restrictions to the web application firewall in order to block more Bots.  These updates will not affect end users from keying information into the website, but should block scripts (programs) from loading information into the websites.
Nathan Friedman, Director of Operations
FIS Biller Solutions, An ITAT Merchant Services Partner 
County Treasurer Reminders
Event/Location
Date/Time
Late Interest Forgiveness/Grace Day(s) - October Late Interest/Penalty
Monday, November 1, 2021
Delinquent Tax Notices Mailed

 

-

For the first half installment, due the previous September

Starting Monday, November 1, 2021

Report Unclaimed Money to the State

Monday, November 1, 2021

Daylight Savings Time Ends

Sunday, November 7, 2021

Veterans Day - Office Closed

Thursday, November 11, 2021

Subsequent Tax Payments Eligible for Tax Sale Certificate Holders

 

(September Installments)

Monday, November 15, 2021

Business Property Tax Credit (BPTC) sent by the State

Monday, November 15, 2021 (approximate)

Special Assessment Tax Replacement (Elderly) sent by the State

Monday, November 15, 2021 (approximate)

Homestead/DAV Credit sent by the State

Monday, November 15, 2021 (approximate)

Thanksgiving Day/Friday after Thanksgiving - Office Closed
Thursday, November 25 - Friday, 26, 2021
Remit Brucellosis & Tuberculosis (TB) Eradication Funds to State

Wednesday, December 15, 2021

Mobile Home Reduced Tax Rate (Low Income) sent by the State

Wednesday, December 15, 2021

Christmas Eve Day/Christmas Day

 -

Office Closed

Observed Friday, December 24 - Monday, 27, 2021

New Year's Day - Office Closed
Observed Friday, December 31, 2021
Late Interest Forgiveness/Grace Day(s) 

- 

December Late Interest/Penalty
January 1-3, 2022
Considering a Change in Web Venders?
Transitioning to the IowaTaxAndTags.org website is easier than you may think. Contact ITAT today to discuss the benefits of joining the IowaTaxAndTags.org website.  
Email: Contact@IowaTaxAndTags.org
Phone: (515) 323-5278   
ITAT Staff:
Dan Radkay, Sr Applications Developer
Sarika Mandumula, Sr Applications Developer
Don Lewis, ITAT Project Manager