The Itat Quarterly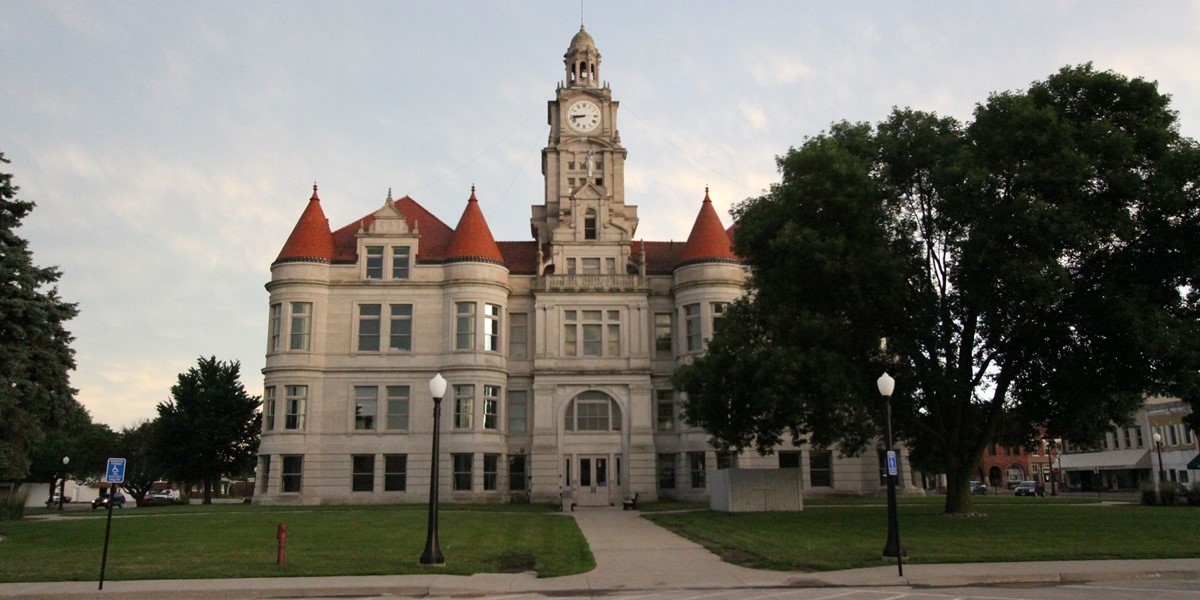 Dallas County Courthouse, Adel
Fiscal Year 2023 - Q2 Edition
Welcome to The ITAT Quarterly!
The ITAT Quarterly newsletter is brought to you by the County Treasurers of IowaTaxAndTags.org.  It is designed to increase communications and provide treasurers with information on hot-topic issues that concern Iowa County Treasurers.
Where has the year gone? 2022 has flown by and it is hard to believe that we are into November. It won't be long until we replace campaign ads with black Friday ads and we can finally see what the top Christmas gift will be this year.  Any chance they top the NES (Nintendo), Cabbage Patch Kids or Care Bears from back when I was a kid?  
November is also election month. With seventeen county treasurers retiring or not seeking re-election, the Treasurer's Association is going to look a lot different in 2023.  Congratulations to all of you and thank you for all of your years of service!
Janet Davis, Appanoose County 

Rita Schmidt, Blackhawk County

Sue Shonka, Bremer County

Patricia Wright, Cerro Gordo County

Denise Dolan, Dubuque County

Brenda Moore, Emmett County

Frank Rottinghaus, Floyd County

Marci Shreck, Guthrie County

Judy Warwick, Hamilton County

Warren Steffen, Howard County

Jana Bratland, Humboldt County

Sharon Gonzalez, Linn County

Jana Corkrean, Madison County

Jarret Heil, Marshall County

Mike Fennelly, Scott County  
In other news, the County Treasurer Spotlight is changing. You have probably noticed in previous editions of the ITAT Quarterly, the Treasurer Spotlight has been dedicated to spotlighting ITAT county treasurers. Beginning with this edition, we are opening up the spotlight to all County Treasurers. If you would like to highlight your county in an upcoming newsletter, please contact us.
Wishing you a very happy holiday season and a wonderful New Year!
Thanks for taking the time to read this edition of The ITAT Quarterly!
Don Lewis, CPA, ITAT Project Manager
County Treasurer Spotlight
Mitch Hambleton, Dallas County
A Successful Transition to Appointments Only
Prior to being elected in 2014, as a recovering CPA, I spent 30 years in the insurance industry in auditing and accounting, and was involved in setting up a new annuity company using best practices. Once I became Treasurer, I took that knowledge and created an environment of change where every employee looks for better methods of performing their jobs. Once COVID hit and we were on the verge of opening back up, I received the email from Julie Daugherty, Warren County Treasurer, laying out her plans to reopen, but using appointments only.
We were fortunate in that we already had the Qmatic system in-house, and soon subscribed and implemented the online appointment capability. We are also fortunate that our offices are located in the Courthouse, where everyone has to pass through a security check, and the Deputy Sheriffs are great with the public in checking their appointment status and directing them to our office or our website. We allow appointments to be scheduled 5 business days ahead, and have 3 resources open for that. We are also sensitive to the reality that some folks just prefer to come in the day of, so we open up 2 additional resources each day to allow for same-day appointments. We have a drop-box outside the Courthouse where we take in title work, plate returns, registration renewals, as well as tax payments. We direct everyone to our website to pay online or make an appointment, and do our best to hide the fact that we will take walk-in registration renewals if they are willing to wait for those who have appointments.
At the end of an appointment, all customers receive a survey link where we ask their satisfaction of the whole appointment experience and overall satisfaction with their visit. 95% of the comments we receive from our customers indicate that they absolutely love the appointment only method and do not wish for us to go back to walk-ins with the associated wait. Another benefit of asking for feedback is that the customer quite often wishes to give accolades to the clerk who processed the transaction for them. An excellent opportunity to give regular pats on the back and to continue to build a spirit of teamwork!
Mitch Hambleton, Dallas County Treasurer
Featured Enhancements
The ITAT Development Team is continuously making improvements to make Iowa Tax And Tags the best payment site possible. Some of the higher profile enhancements that the team is working on include:  
ITAT Version 2 Redesign

(In-Process)

-

Th

e ITAT

 

programmers are actively working on the redesign of the ITAT website.

The initial redesign is focusing on the current guest checkout process with the much anticipated user accounts coming next

.

Upgraded API Integration with FIS

(In-Process)

 

-

As part of the overall site redesign, the API connections with our payment processor are also being updated to a more modern API.  This upgrade will allow for new features to be added to the site including: saved payment methods and scheduled/recurring payments.

Full Online Tax Sale Registration (In-Discussions) - ITAT is in discussions with a 3rd party online real estate auction company on a joint venture to provide full online tax sales beginning with the June 2023 tax sale.  Additional details will be shared in the coming weeks.

Adam Draayer, ITAT Product Owner
Mobile First Approach to Web Design
What is Mobile First Design?  
As the name suggests, a 'mobile first' approach to website design simply means that you design your website from a mobile device view where there are space limitations, then expand those features to larger devices like tablets and desktops.  Mobile first is important because it forces developers to focus only on the essentials, thus providing a better user experience on mobile devices.
A mobile first approach to website design is particularly important for websites like IowaTaxAndTags.org where there has been a large shift in user preference over the past several years.  Mobile usage on IowaTaxAndTags.org is now the preferred method for users with mobile traffic exceeding 75% of all activity.
When planning for the ITAT redesign, the development team understands that prioritizing mobile design is critical to ensure pages are accessible to all users and that all key elements are prominently displayed.  A mobile first design strategy will allow the development team to design the new version of the ITAT website that is not only simple to navigate but also easily viewable for those users on smaller screens.  This will ensure a better user experience on mobile devices and will result in an increase in online payments of property taxes and vehicle registration renewals.

Event/Location
Date/Time
Delinquent Tax Notices Mailed

November 1, 2022

Report Unclaimed Money to the State

November 1, 2022

Daylight Savings Time Ends

November 6, 2022

Election Day

November 8, 2022

Veterans Day

 - Office Closed

November 

11

, 2022

Subsequent Tax Payments Eligible for Tax Sale Certificate Holders

November 

15

, 2022

Business Property Tax Credit (BPTC)

November 15, 2022 (approximate)

Special Assessment Tax Replacement (Elderly) sent by the State

November

 

15

, 2022

 

(approximate)

Homestead/DAV Credit sent by the State

November 15, 2022 (approximate)

Thanksgiving Day/Friday after Thanksgiving - Office Closed

November

 24 - 25

, 2022

Remit Brucellosis & Tuberculosis (TB) Eradication Funds to the State
December 15, 2022
Mobile Home Reduced Tax Rate (Low Income) sent by the State

December 15, 2022

Christmas Eve Day/Christmas Day - Office Closed 

Observed December 23 - 26

, 2022
New Year's Day - Office Closed

Observed January 2, 2023

Martin Luther King Jr. Day - Office Closed

January 16, 2023

1099 Tax Forms Mailed

January 32, 2023
 
Transitioning to the IowaTaxAndTags.org website is easier than you may think. Contact ITAT today to discuss the benefits of joining the IowaTaxAndTags.org website.  
Email: Contact@IowaTaxAndTags.org
ITAT Team:
Dan Radkay, Sr Applications Developer
Sarika Mandumula, Sr Applications Developer
Aaron Nord, Applications Developer
Zach Peterson, Applications Developer
Adam Draayer, ITAT Product Owner
Don Lewis, ITAT Project Manager