The Itat Quarterly
Fiscal Year 2023 - Q4 Edition
Welcome to The ITAT Quarterly!
The ITAT Quarterly newsletter is brought to you by the County Treasurers of IowaTaxAndTags.org.  It is designed to increase communications and provide treasurers with information on hot-topic issues that concern Iowa County Treasurers.
Fresh air, warmer weather and blooming flowers. What's not to love about spring in Iowa? Besides the weather, there are a lot of things to rejoice about. Although March saw my bracket busted the first weekend of March Madness, seeing the Iowa Women's team advance to the finals made up for it. What a run these ladies went on. They truly do represent what is great about the State of Iowa.
Although not on the same level as Caitlin Clark and the Iowa Women, ITAT had another very successful March property tax deadline!  ITAT saw an 8% increase in public citizen property tax transactions compared to last March and had strong growth in both Portfolio and Batch activity.  Online vehicle collections were also up nearly 3% as ITAT had our 2nd largest online renewal month ever! 
ITAT will be hitting the road next month for the Iowa Treasurer's May conference in Pella.  We are looking forward to meeting all the new treasurers from across the State, hearing about your needs and sharing our plan for the future of IowaTaxAndTags.org. Be sure to stop by and say hello.
Thanks for taking the time to read this edition of The ITAT Quarterly!
Don Lewis, CPA, ITAT Project Manager
County Treasurer Spotlight
Scott Finlayson, Johnson County
Q&A with New Johnson County Treasurer, Scott Finlayson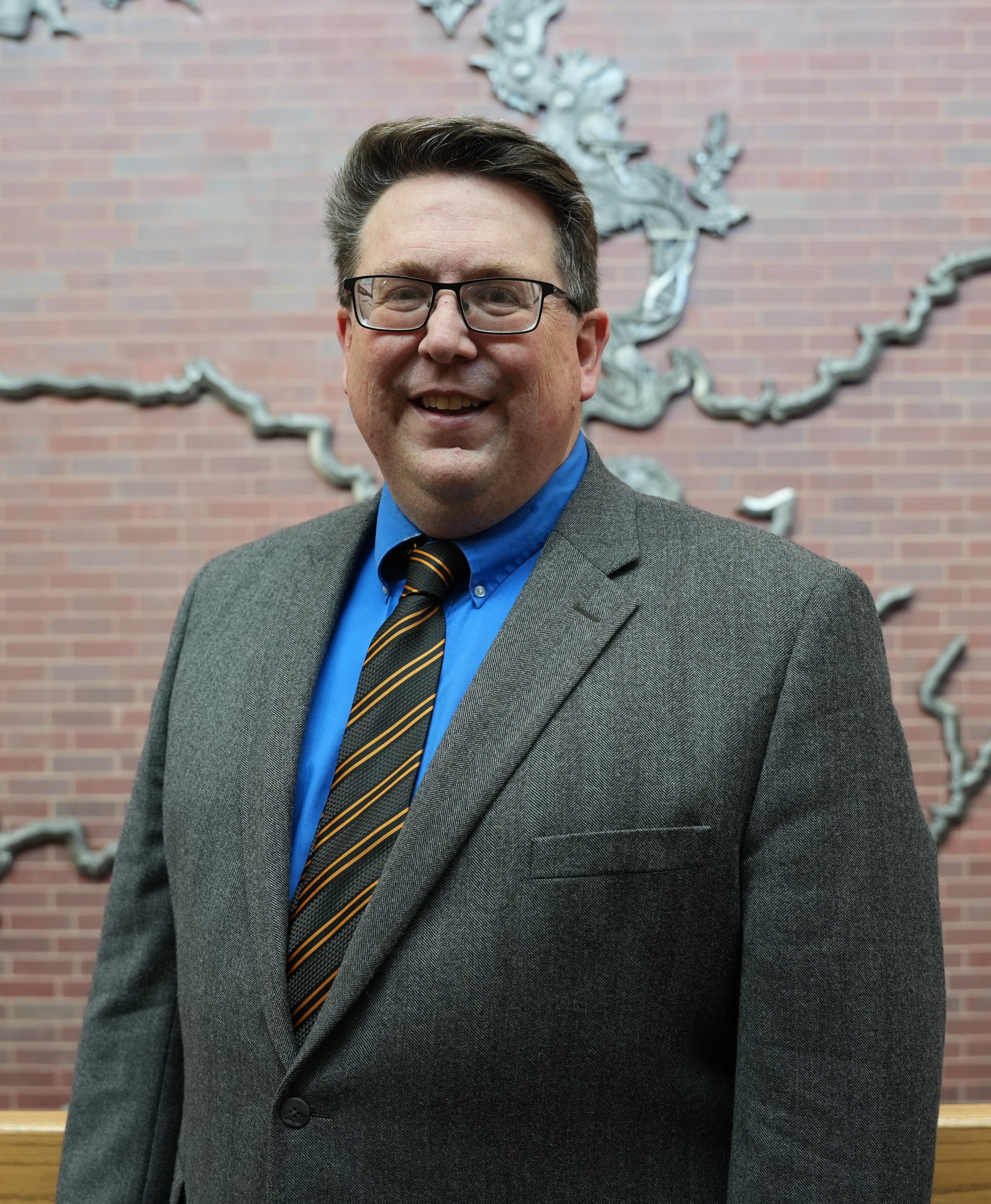 Q: How long have you been Treasurer?
A: Since January 2023
Q: What inspired you to pursue the Johnson County Treasurer elected position?
A: I was an attorney with a background in banking and was working for the Johnson County Attorney's Office, assigned to do the legal work for the County Treasurer.  Former Treasurer Tom Kriz recruited me to be his Property Tax and Accounting Deputy. 
Q: How many team members do you have in your office?
A: All of them... I hope!
Q: What are some successes that you have had during your time as Treasurer?
A: Having a happy and fulfilled staff and satisfied customer base is important yo me.  So far, our staff and customer base are both happy!
Q: What are some challenges you have faced and how have you overcome those challenges?
A: I have dyslexia....Law school cured me of that!
Q: What solutions or accomplishments are you most proud of? 
A: I clean my cats' litter boxes every day.  Seriously! Ugh!
Q: What are your future goals for your team and your office?
A: Creating a good culture in the office for both staff and customers. Happy staff, happy customers, happy colleagues.
Q: What are you looking forward to most?
A: Catching a musky.  Will I ever catch a musky?!
Q: What is something about you that most people don't know?
A: I am an introvert who has learned to act like an extrovert.
Q: Any other closing comments?
A: Thank you.  The treasurer community has been very open, welcoming and helpful.  I am afraid of making mistakes but knowing there are folks who are there to support and help me grow in the role is something I am grateful for every day.
Scott Finlayson, Johnson County Treasurer
Featured Enhancements
The ITAT Development Team is continuously making improvements to make Iowa Tax And Tags the best payment site possible. Some of the higher profile enhancements that the team is working on include:  
Point of Sale (POS) Upgrades (Phase 1 Rollout) - ITAT is rolling out new Point of Sale devices beginning this month.  The new machines are from the Ingenico DX8000 series and includes all the latest in payment technology that citizens have come accustomed to.  This includes contactless payments that will allow users to pay by tapping their chip enabled card or the ability to use digital wallets like Apple Pay or Google Pay.

ITAT Logo & Branding Refresh 

(In-Process)  -

ITAT has created a new logo and updated color palette that will be rolled out with the release of the ITAT version 2 redesign.

ITAT v2 Guest Checkout Redesign (In-Process) - The ITAT developers are still progressing on the ITAT version 2 redesign.  Check out Adam's progress update in the Technical Review section of this month's ITAT Quarterly!

Upgraded API Integration with FIS 

(In-Process)  - 

In conjunction with the website redesign, ITAT is modernizing the API connection to our payment processor, FIS.  This is the first step in the payment integration that will allow users advanced payment options including save payment methods and schedule payments. 

Adam Draayer, ITAT Product Owner
ITAT Version 2 Progress Update
The ITAT development team is still hard at work getting ITAT v2 ready to go live to the public.  We have started to dig into the new FIS API (Application Programming Interface).  Essentially, the FIS API is a number of commands that are sent back and forth to FIS that lets us tell each other 'pay this amount using this credit card'.
With the new version of the FIS API, new features are possible! Reviewing the API documentation, we are seeing the commands for saving a payment method, calling the 'wallet' via a 'token' to return those saved payment methods, and even the option to schedule out a payment. These features will all be VERY useful when we create the individual user accounts and enterprise (portfolio/fleet) accounts.
For now though, we're focused on making sure the new experience is even better than the old one. Using CSS and iFrames we hope to make the experience as seamless and painless as possible for our guest checkout, speeding up a process that no one likes to do, paying property and vehicle taxes.  These new CSS styles will need to be dialed in and we are still working on a final look and feel. The ITAT development team and the FIS development team are meeting in April to go over our findings and iron out any kinks in the process.
The ITAT team cannot wait to leverage all of the new tools and we hope you're just as excited as us!

Event/Location
Date/Time
Delinquent Tax Notices Mailed

May 1, 2023

ISCTA 2023 Annual Conference

May 9-12, 2023

Subsequent Tax Payments Eligible for T.S. Certificate Holders

May 15, 2023

Memorial Day

 

- Office Closed

May 29, 2023

Family Farm Credit from State

June 15, 2023 (approximate)

Elderly/Disabled Credit from State

June 15, 2023 (approximate)

Remit Brucellosis & Tuberculosis (TB) Eradication Funds to State

June 15, 2023

Juneteenth 

- Office Closed

June 19, 2023

Annual County Tax Sale

June 19, 2023 (unless moved)

Fiscal Year End

June 30, 2023

Independence Day

 

- Office Closed

July 4, 2023
Ag Land Credit from State

July 15, 2023
 
Transitioning to the IowaTaxAndTags.org website is easier than you may think. Contact ITAT today to discuss the benefits of joining the IowaTaxAndTags.org website.  
Email: Contact@IowaTaxAndTags.org
ITAT Team:
Dan Radkay, Sr Applications Developer
Sarika Mandumula, Sr Applications Developer
Aaron Nord, Applications Developer
Zach Peterson, Applications Developer
Adam Draayer, ITAT Product Owner
Don Lewis, ITAT Project Manager