The Itat Quarterly

Fiscal Year 2024 - Q2 Edition
Welcome to The ITAT Quarterly!
The ITAT Quarterly newsletter is brought to you by the County Treasurers of IowaTaxAndTags.org.  It is designed to increase communications and provide treasurers with information on hot-topic issues that concern Iowa County Treasurers.
As the leaves begin to change and autumn descends upon us, it's time for another exciting edition of the ITAT Quarterly Newsletter.  In this season of transformation, we're here to keep you informed about the latest developments and insights of Iowa Tax And Tags. 
In our last newsletter, we shared an update on the progress of the new version of ITAT, dubbed ITAT v2. Since then, the development team was able to complete the preliminary work on the site and we were able to release the test environment to our partner counties to complete acceptance testing.  I wanted to give a big 'Thank You!' to all of the counties who participated in testing! Your feedback was exceptional and will ensure an even better product when released.
With the year winding down, we will soon see jack-o'-lanterns replaced with colorful lights and nativity scenes.  As we move through the seasons, let's remember to take a moment to express gratitude for those around you. On behalf of the ITAT Development Team, I would like to thank each and every one of you for your dedication to serving your communities. We hope this edition of the newsletter proves to be a valuable resource for you as we head into the fall season
Wishing you a productive and successful autumn!    
Don Lewis, CPA, ITAT Project Manager
County Treasurer Spotlight
Sandy K. Ross, Poweshiek County
Q&A with Poweshiek County Treasurer, Sandy K. Ross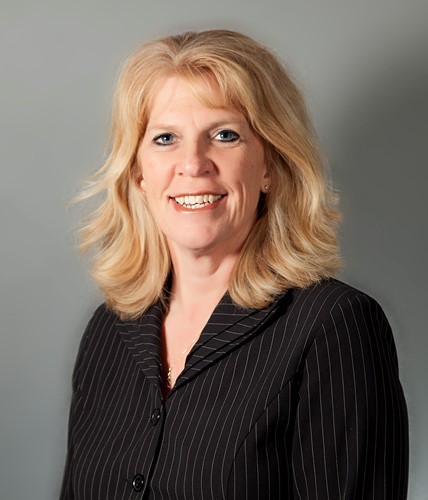 Q: How long have you been Treasurer?
A:  I have been County Treasurer for 10 1/2 years.
Q: How did you get your start?
A:  Prior to becoming County Treasurer, I worked at Peoples Savings Bank in Montezuma for 21 years and Grinnell State Bank for a year.
Q: What inspired you to pursue the Poweshiek County Treasurer elected position?
A:  Funny Story! Lana Taylor, who was the prior Poweshiek County Treasurer (most of you know that), asked me to help her out during the 2012 presidential caucus. During the caucus, Lana announced that she was going to retire at the end of 2012.  Upon hearing the news, I thought to myself, treasurer… money… I could do that! 
Later that week, I went to see Lana to ask her the NUMEROUS questions that I had and to see how this all worked… with her retiring, could I become an employee and train under her prior to the end of the year?… That type of thing…. Not realizing that's not how this works😊
Lana and I visited for an hour or so going over many details. Lana then explained to me that I wouldn't be able to come on board and learn from her and that she didn't know if the board of supervisors were going to appoint a new treasurer or have a special election.  At that point, I decided to pursue my banking experience at Grinnell State Bank.
I started at Grinnell State Bank in February 2012.  In January 2013 our home phone rang (yes we had home land lines then) and it was the republican party asking me if I would be interested in running for County Treasurer. I told them that I was happy where I was at and that I "was good" with my current job. They asked me to think about it and let them know because there was going to be a special election and they needed a good candidate. I talked it over with my husband and the CEO of Grinnell State Bank and with their support, decided to run for the Treasurer position. It was a 5-week campaign and I truly feel that this was a whole "God thing" of how this all played out and so thankful that I did!  How's this for an ironic story?
Q: How many team members do you have in your office?
A: I have 8 employees plus myself.
Q: What are some successes that you have had during your time as Treasurer?
A: Through my time as Treasurer, I have been faced with many challenges that I have taken in stride to turn into successes, such as navigating how to run the office during the COVID shut down, closing offices due to health concerns and limiting staff in order to continue to serve the public.
Q: What are some challenges you have faced and how have you overcome those challenges?
A: When I was elected, I had many veteran employees and with each retirement has brought new challenges. Some new hires have brought to the table a new perspective and have shared with me some different ideas for our daily operation which has allowed us to be more efficient.
Q: What solutions or accomplishments are you most proud of?
A: Being able to invest the counties money with the knowledge from my banking background. Also, most counties have all their Treasurer departments all in one location however, mine are all in different areas of our building. I have been blessed to be able to bring my three offices together as a team as we serve the county residents.
Q: What are your future goals for your team and your office?
A: Having each department cross trained well enough so that when future employees join our team it is a smooth transition.
Q: What are you looking forward to most?
A: Looking forward to watching our offices grow as a team and taking on new responsibilities with stride.
Q: What is something about you that most people don't know?
A: I went to college to be a nurse and after one year I decided not to pursue it any longer.
Q: What is something unique to your county?
A: The Poweshiek County Courthouse is the second oldest "operating" courthouse in the State of Iowa.
Q: Any closing comments?
A: I have enjoyed being the County Treasurer for the past 10 ½ years and I appreciate everyone who has accompanied me on my journey.
Sandy K. Ross, Poweshiek County Treasurer
Featured Enhancements
The ITAT Development Team is continuously making improvements to make Iowa Tax And Tags the best payment site possible. Some of the higher profile enhancements that the team is working on include:  
ITAT v2 Guest Checkout Redesign (Pre-Production) – Thank you to all the Treasurers & staff who took time to test and provide feedback on the new version of ITAT.  Our development team is reviewing your responses and are actively working on the suggested changes.

Point of Sale (POS) Upgrades (Paused) – WorldPay has completed three of the four enhancements that ITAT requested during the initial rollout of the Ingenico DX8000 with the final enhancement is slated for release in early November.  Once the updates have been fully tested, ITAT will continue the release of the new point-of-sale devices.

Adam Draayer, ITAT Project Owner
Agile Software Development and It's Impact on Iowa Taxes and Tags
Software development has changed a lot since the days of mainframes and punch cards but for a lot of organizations managing that software and how it is developed is stuck in the 70's. The Iowa Taxes and Tags team takes software development very seriously and is always looking to do better for you and your taxpayers. Agile software development originated in the 1990's when a group of developers got together and asked 'is there a better way to develop and release software'? The answer was a resounding 'yes'. Taking cues from the Lean Manufacturing principals that Toyota used (the Toyota Production System or TPS is still an example used across all industries and practices) these developers designed a new framework for software development. Agile software development replaced Waterfall software development as the leading edge of best practices.
So how does the Iowa Taxes and Tags team use Agile software development? We follow the Agile Manifesto.
The Agile Manifesto
We are uncovering better ways of developing software by doing it and helping others do it. Through this work we have come to value:
Individuals and interactions OVER processes and tools
Working software OVER comprehensive documentation
Customer collaboration OVER contract negotiation
Responding to change OVER following a plan
While there is value in the items on the right, we value the items on the left more.
Day to day what does this look like for our team? Instead of obsessing over using the newest software development tools, we make sure to talk to each other and our stakeholders (you) as frequently as possible. Instead of writing a handbook for using ITAT, we get working software in your hands and the tax payer's hands faster.  The best lesson is real world experience. We don't worry about our contracts, we worry about working with you and your teams to meet your needs. A happy stakeholder results in a happy relationship. We all know change is the only constant and instead of being married to 'how we've always done things' we need to keep an eye to future and always ask the 'why' questions'.
By following these principles we believe the Iowa Taxes and Tags team can be better positioned to deliver the best software to you and your taxpayers as quickly and efficiently as possible.

Event/Location
Date/Time
Report Unclaimed Money to the State

November 1, 2023

Daylight Savings Time Ends

November 5, 2023

Election Day (Regular City/School)

November 7, 2023

Veterans Day

 - Office Closed

Observed November 

10

, 2023

Subsequent Tax Payments Eligible for Tax Sale Certificate Holders

November 

15

, 2023

Special Assessment Tax Replacement (Elderly) sent by the State

November

 

15

, 2023

 

(approximate)

Homestead/DAV Credit sent by the State

November 15, 2023 (approximate)

Thanksgiving Day/Friday after Thanksgiving - Office Closed

November

 23 - 24

, 2023

Remit Brucellosis & Tuberculosis (TB) Eradication Funds to the State
December 15, 2023
Christmas Eve Day/Christmas Day - Office Closed 

Observed December 22 - 25

, 2023
New Year's Day - Office Closed

January 1, 2024

Martin Luther King Jr. Day

 

- Office Closed

January 15, 2024

1099 Tax Forms Mailed

January 31, 2024
 
Transitioning to the IowaTaxAndTags.org website is easier than you may think. Contact ITAT today to discuss the benefits of joining the IowaTaxAndTags.org website.  
Email: Contact@IowaTaxAndTags.org
ITAT Team:
Dan Radkay, Sr Applications Developer
Sarika Mandumula, Sr Applications Developer
Aaron Nord, Applications Developer
Zach Peterson, Applications Developer
Adam Draayer, ITAT Product Owner
Don Lewis, ITAT Project Manager