Real ID Compliant License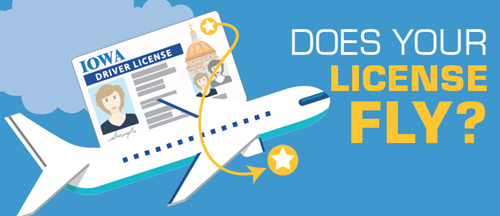 Due to Covid-19, the deadline to get your REAL ID (gold star) has been extended to May 7, 2025.  If you're planning to travel by commercial plane, you must show a REAL ID compliant license or identification card (ID) at the airport, or comply with TSA by providing additional and accepted documentation including increased security checks which may cause delay.
Don't fret! We're here to help you discover if an Iowa REAL ID compliant license or ID is right for you.
WHAT IS REAL ID
REAL ID is a federal act focusing on anti-terrorism, fraud protection, and security specific to the production of driver's licenses and ID cards that control access to
Federal facilities requiring identification to enter.
Federally regulated commercial aircraft.
Nuclear power facilities.
Find out more about the REAL ID Act.
WHAT DOCUMENTS DO I NEED TO BRING WITH ME?

Save time by coming prepared! Find out what documents you need to get your REAL ID gold star driver's licenses or identification card.  What documents do I need?  
IS A REAL ID CREDENTIAL THE RIGHT CHOICE FOR ME?
REAL ID does not:
Invalidate your state issued driver's license or ID card.
Affect using a driver's license or ID card for usual purposes, such as driving, renting a vehicle, writing a check, purchasing alcohol or tobacco, or entering a casino.
You may not need a REAL ID compliant license or ID card if you
Do not fly and do not plan to enter certain federal facilities, such as military bases and nuclear power plants.
Have an acceptable alternative to a state-issued REAL ID compliant driver's license or ID card, such as a valid U.S. passport.
I just used Iowa Tax And Tags to pay the annual fee for my car. I was very impressed with the new site. It has a very clean design and is easy to use.